Cali Restaurant Under Fire For Serving Popeye's Chicken For TWICE AS MUCH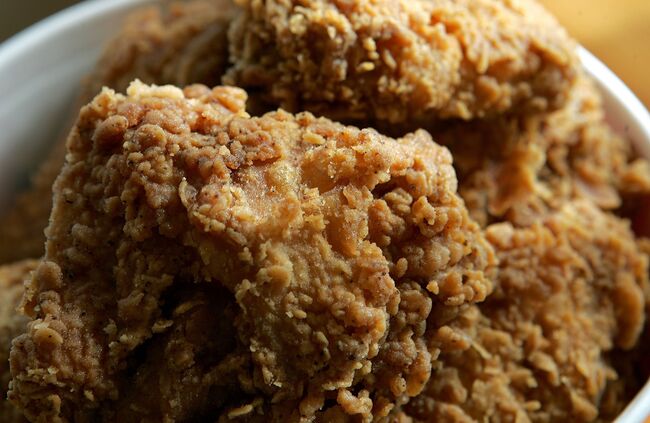 WTF.
California restaurant Sweet Dixie Kitchen is in the news for having duped customers into paying an insane amount of money for their fried chicken... which turned out to have been brought in straight from Popeye's.
The truth came to light after a customer'd seen the Popeye's packaging being brought into the restaurant, writing a complaint via Yelp in early October.
"THE CHICKEN THEY USE IS FROM POPEYES!" Tyler H wrote. "Before my friends and I got seated we saw them quickly bring in two large boxes of Popeyes to the kitchen. I wanted to believe that this was just a snack for the workers, but alas it was not."
Tyler continues: "I ordered the Chicken and Waffles to see whether or not they was serving Popeyes to their customers. I thought the chicken tasted suspiciously like Popeyes and was also rather stale. I kindly asked our waiter how they cooked their fried chicken. After checking he admitted that they do in fact use Popeyes."
When the manager of Sweet Dixie Kitchen saw the complain, she wrote back, "Hi Tyler," she wrote. "We PROUDLY SERVE Popeyes spicy tenders- the best fried chicken anywhere and from New Orleans- which are delivered twice a day."
THEY'RE PROUD TO BE STEALING OTHER RESTAURANTS' CHICKEN AND SERVING IT TO THEIR CUSTOMERS.
Wow.
Read the full story via Complex.
photo via Getty

Nina Chantele
Nina Chantele is weekdays 3p-7p on Real 92.3 FM, 10a-3p on JAM'N 95.7 in San Diego, weekends on 104.3 MYfm and more!
Read more