#iHeartUnfiltered gives fans an exclusive glimpse at a day in the life of some of your favorite stars. From behind-the-scenes photos to candid quotes, iHeartRadio's latest series is all about providing readers with a one-of-a-kind look into the routines of the rich and famous.
Bebe Rexha is the type of woman who says what's on her mind and isn't afraid to show her true colors. We hear it in her music and with that, it feels as if she's our best friend. Unsurprisingly, her fans, known as Rexhars, are sassy, outspoken, confident and loving — just like Bebe.
She has collaborated with some of the biggest names in the industry, further proving that she's not your "average pop star." She's far more than that. Bebe spreads love to her fans by encouraging them to be their most authentic selves regardless of what society tells them.
Bebe joined us at the iHeartRadio Theater in Los Angeles to remind fans why they loved All Your Fault Pt. 1 before her release of Pt. 2, which is out in stores now. In the hours leading up to the show, Bebe made her way backstage to complete interviews, photoshoots, meet her fans and, of course, rock her performance. Check out what it's like to be a member of Bebe Rexha's entourage in the latest installment of #iHeartUnfiltered.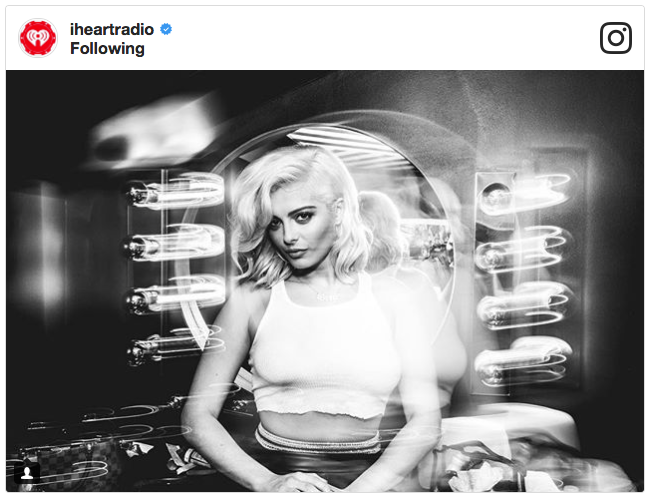 2:22 PM: Just days after hitting the stage with Louis Tomlinson on The Tonight Show Starring Jimmy Fallon, Bebe returns to Los Angeles for the first time in two months. Rexha's anthem, "The Way I Are (Dance With Somebody)" featuring Lil Wayne, can be heard in the background while four backup dancers hit the stage to rehearse. While waiting for Bebe's arrival, a rack of clothing goes straight into her dressing room.
2:30 PM: Bebe arrives with a Starbucks iced tea in hand alongside her manager, Adam. She immediately finds the host of the show, Tanya Rad, waiting for her in her dressing room. Tanya gushes over All You Fault Pt. 1 because it's all about going through a break-up. The two bond over how their ex-boyfriends broke up with them in the worst possible ways. Bebe reveals that her ex-boyfriend (who Pt.1 is about), blocked her "on everything possible" once he heard the album.
2:47 PM: Once she gets settled in her dressing room, Bebe walks to the stage while twirling a white pom-pom around her finger. Her backup dancers continue their rehearsal. However, this time her collaboration with Cash Cash, "Take Me Home" can be heard. Bebe glances up at the monitors above the stage, absorbing the entire environment. She also encourages the dancers by telling them how great they're doing. We head for the production office for her first interview of the day.
2:55 PM: "When I first met Rihanna ever, I was selling perfume at a counter, so I don't think either of us knew that I was going to write that song [on writing 'The Monster'], Rexha recalls. "I bumped into her backstage and I always get nervous to speak to her, and I don't even know if she knows that I was a part of writing that record."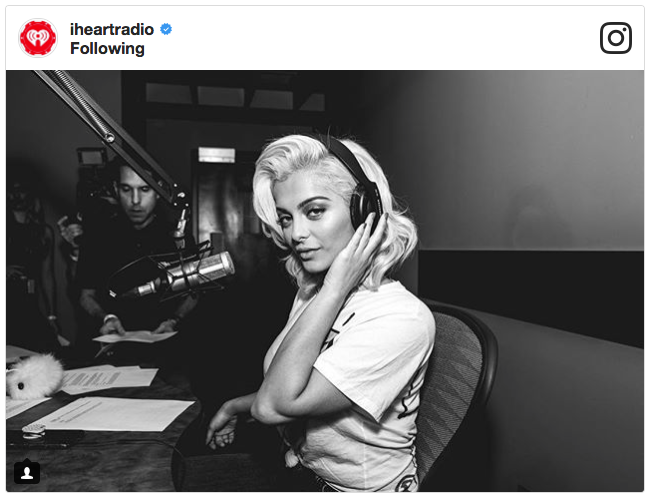 3:00 PM: During an interview with Z100's Maxwell for the iHeartRadio Countdown, he asks her about her hit, "The Way I Are." She dives into it in Bebe fashion, explaining how she hopes she can answer without cursing. "I think when I first started out in the music business; I was trying to find myself, and trying to figure out who I was, and what my sound was," she admits. "I was signed previously to another record label and they just didn't know what to do with me. I didn't fit the "pop star look." I had dark black hair, and I was a little thicker, so I got pissed, because I was like, 'I'm tired of being what people want me to be, and I just want to be who I am.' So, '[The Way I Are]' is basically an F you to my old record label… but, whatever."
3:10 PM: Bebe also compliments Kanye West. "I think what makes Kanye great, is the fact that he is able to take risks and changes his sound," she says. "It's not like what you think hip-hop would be, he's doing songs with Daft Punk and he's using a full on orchestra and I think that's what makes him so innovative and fresh, he's a risk taker… just think he's the dopest, I would love to work with Kanye."
3:27 PM: As Bebe prepares herself for soundcheck, she says she hasn't warmed up her voice yet and proceeds to run in place. The stage manager, Tim, approaches Bebe to introduce himself and show her where she's going to enter on stage. Once she finishes soundcheck, she tells the backup dancers makeup artist that she wants the girls to have "dope liner and a dope lip." She wants the girls to look fierce!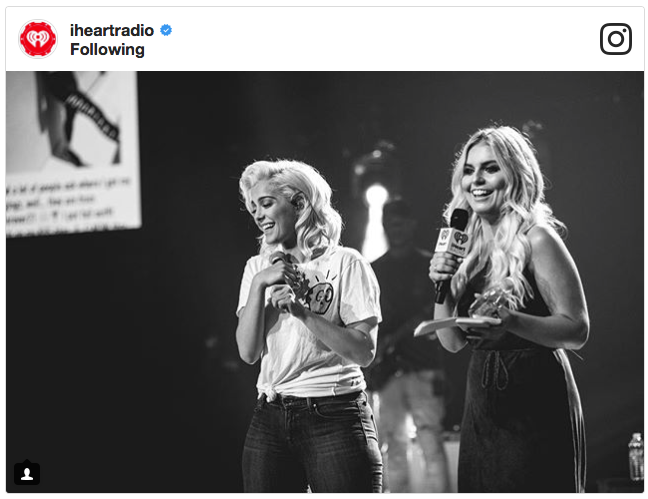 4:00 PM: While walking back to her dressing room, Bebe is immediately enraptured by the sight of three adorable puppies. Her manager attempts to pull her away, but she's completely attached to one who goes by the name Coco. Bebe talks quietly to the pup, asking if "…you want to come home with me?" The puppies remind Bebe of her dog Bear and how he'd be extremely jealous if she adopted yet another pup. Her team finally manages to peel her away from Coco, explaining to Bebe that she can play with her later. Somewhat unwillingly, Bebe hands Coco back to her owner to get her makeup done.
4:30 PM: Kendrick Lamar's DNA is blasting out of nearby speakers to help Bebe get in the zone to take portrait photos. Photographers Wes and Alex place Bebe in the middle of a reflective backdrop, and again in front of a turquoise backdrop to make her platinum blonde hair "pop." A plain white t-shirt has never looked this good.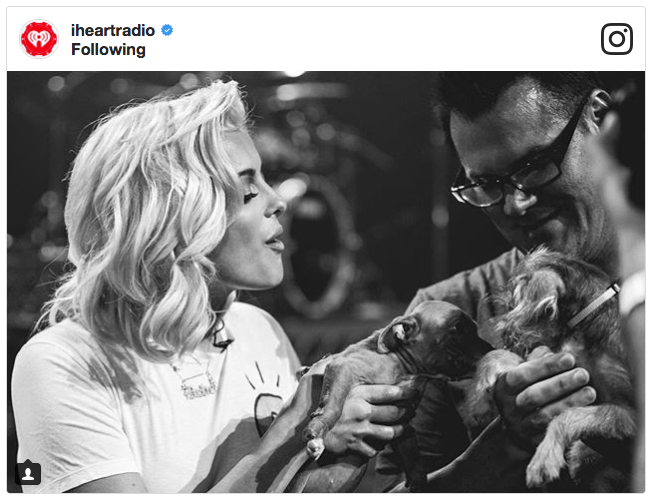 4:50 PM: The time has arrived where Bebe finally gets to have her interview while holding puppies. It's a dream come true for the canine-obsessed singer. The pop star immediately grabs two of the pups, but searches for Coco, who the team is holding back for her to play with later. Bebe gets her phone and FaceTimes her mom (and Bear, of course). Bebe shows her mom Coco and squeals, "Look at Coco Puff, mom. Oh my gosh. Can you get a video of me holding Coco?"
5:20 PM: Because the event is hosted by Forever 21, the youthful and trendy brand supplied clothing for Bebe to dress two lucky winners backstage in the green room. Rexha grabs a Van Halen t-shirt and tells one girl to tie it in a knot just like her own white tee. Then, she gives the other winner an embroidered champagne colored bomber jacket. Bebe points at the first girl and says, "I would do your California shirt and I would wear this [grabs black leather skirt]." The girls show off their new outfits and the three take a photo together.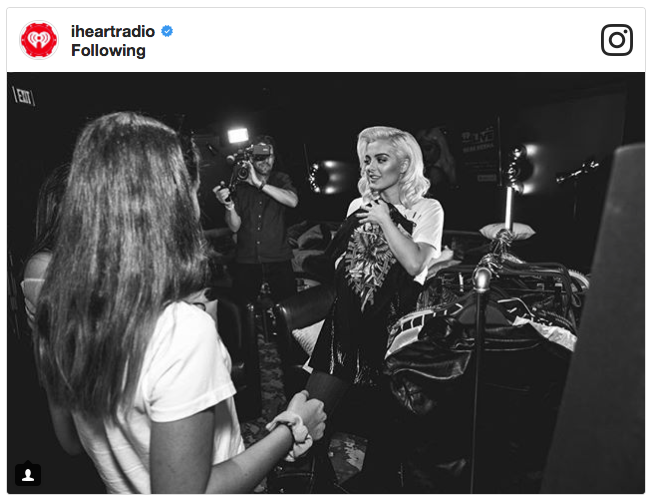 5:40 PM: Bebe leaves the green room and heads for her dressing room to perform vocal exercises and get dressed for the show.
6:52 PM: The backup dancers and Bebe hang out in her dressing room to hype each other up. They begin to twirl and do their pre-show chant. As the dancers exit the room, Bebe offers good luck greetings.
7:02 PM: We walk towards the stage with her entourage and when we arrive to the stairs where she enters the stage, she looks up at the monitor and squeals, "Oh, it's live… it's really live." There's a huge grin on her face. Rexha takes one last photo before hopping on stage. When the moment is right, Bebe runs up the four steps to the stage and kicks off the show with "Bad Bitch." As a special treat for her fans, she even surprises them with an appearance by G-Eazy to perform their collaboration, "Me, Myself & I."
8:04 PM: Rexha ends her set by dedicating her final song to everyone who is going through something. "The world is not an easy place. Everyone is going through something… I just want to say thank you so much for tonight. It was incredible," she explains. The first few bars of "I Got You" begins playing to end the show. Once the song has finished, she waves goodbye to the intimate crowd of 400 and is greeted by her manager, label representatives, choreographer, makeup artist, friends, and more who congratulate her on her performance.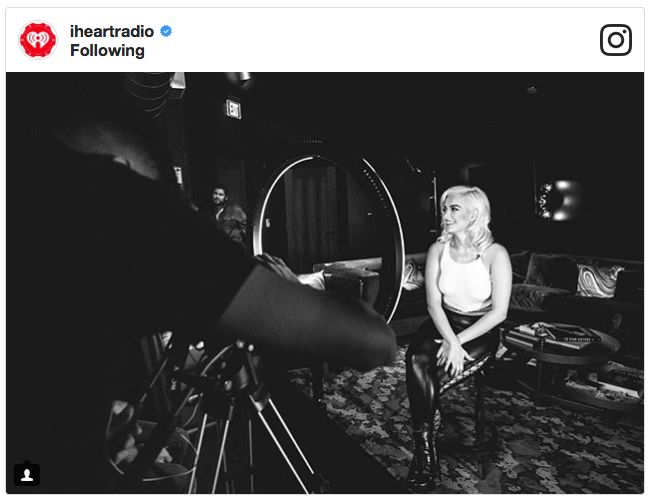 8:10 PM: Just as you think the night is over, Bebe returns to her dressing room for another scheduled interview. During this discussion, people file in and out of her dressing room to congratulate her on an incredible performance.
8:30 PM: In the midst of all the chaos we ask her what she has planned for the iHeartRadio Music Festival coming up in September. "I'm definitely going to put on a show, and I'm definitely going to design an outfit that's real fun and unique and I want to do something really fun and different," she said about performing on the Village stage. Rexha reveals that she wants to add a new song or two to "kind of change up the set." "And my mom is going to come with me... because it's Vegas," she adds. "The iHeart Festival is so amazing because there's so many different artists from so many different genres. That's where I met Diplo and other incredible artists, that's where you build the process of writing songs and get to collaborate."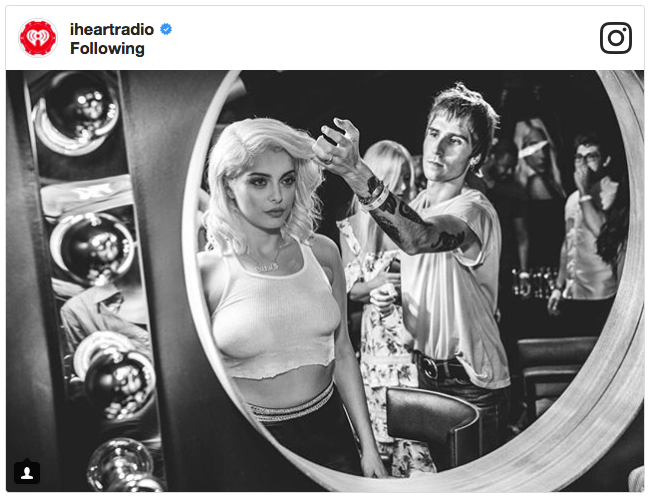 8:57 PM: At the end of our conversation, we talk about women empowerment and bringing females together. It's a topic which leads into her ideal "girl band." After some debate, Bebe decided her girl super group would include Alessia Cara, Kehlani, Julia Michaels and Cardi B. We're keeping our fingers crossed that this actually happens.
9:34 PM: After a long day full of singing and dancing, Rexha grabs her belongings and exits the venue, ready to rest for tomorrow's secret meeting with someone in the studio.
Photo: Wes and Alex for iHeartRadio