#iHeartUnfiltered gives fans an exclusive glimpse at a day in the life of some of your favorite stars. From behind-the-scenes photos to candid quotes, iHeartRadio's series is all about providing readers with a one-of-a-kind look into the routines of the rich and famous.
There's a special kind of connection that happens when you've been in a band for 27 years. Just ask 311. It exists between the five bandmates. It exists between the members and their following. It even exists between the group and the media. With almost three decades in the game, one of the biggest cult bands in history has made the most for their loyal legion of fans with a Caribbean cruise, signature vape pen line and even their own unofficial holiday aptly called 311 Day.
After the release of their 12th studio album, Mosaic, Nick Hexum, SA, P-Nut, Tim Mahoney and Chad Sexton welcomed us to join them in the hours leading up to their iHeartRadio Album Release Party. To see just what went down during the group's Wednesday in the Big Apple, take a look below at our latest installment of #iHeartUnfiltered.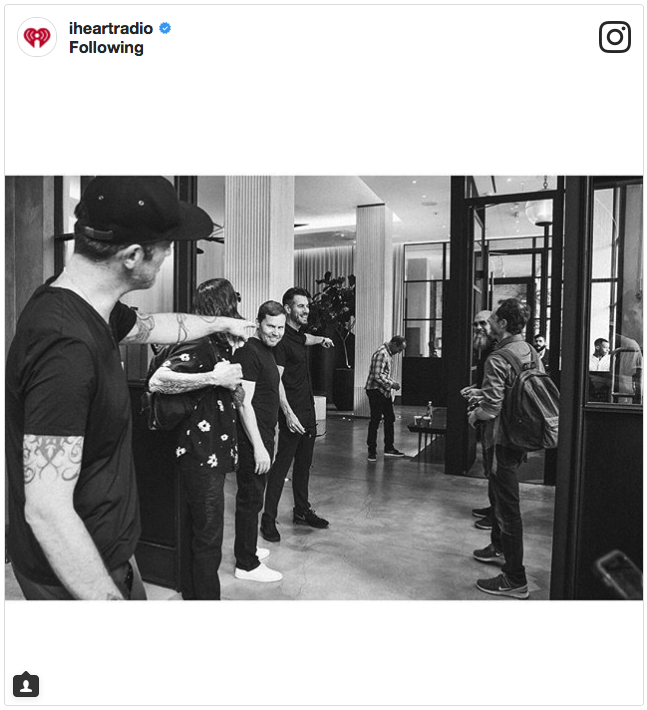 [Related: We Partied Like It Was 311 Day at 'Mosaic' iHeartRadio Album Release Party]
5:36 PM: Inside of a swanky SoHo boutique hotel, Chad Sexton is the first bandmate to meet us in the lobby alongside manager Adam. Chad recalls that one time when their manager had to stand in for a bandmate, who missed part of the show. "I tried my best," Adam says with a hint of embarrassment.
5:44 PM: Minutes later, he's joined by the rest of his group, only to realize that SA didn't get the band's all-black attire memo. Still, New York City's 85-degree temperature has nothing on their dark ensembles!
5:50 PM: We join 311 and their entourage as they venture through the chaotic downtown streets to iHeartRadio HQ for their Mosaic Album Release Party. During our commute, P-Nut admits that he's excited to show his little ones the magic of the Big Apple. "It's cool to see the city from a kid's perspective because we've been coming for forever since we were kids," he says. "And now bringing our kids, it's like 'I wanna see the Statue of Liberty. I wanna see everything. I wanna go to Empire State.'"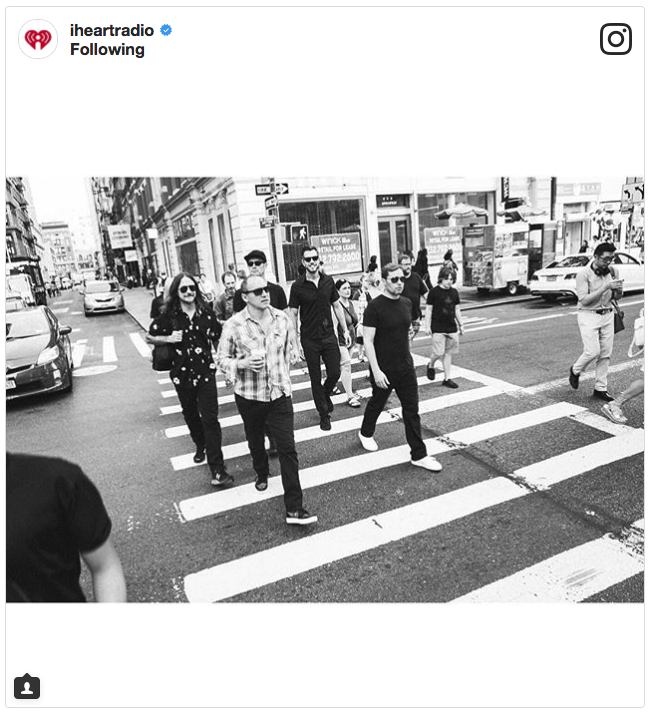 6:04 PM: Walking through Chinatown in the summer season will always include honking vehicles and crappy humidity, so when 311 enters the building and arrives to a cooled down dressing room, it feels all too appropriate. Never underestimate the power of a corporate building's central air conditioning.
6:10 PM: After unwinding in their dressing room, lead singer Nick Hexum and P-Nut head upstairs to meet with iHeartRadio's Senior Director of Creative Services Ricky Roo to share the stories behind the cuts on their new album, Mosaic.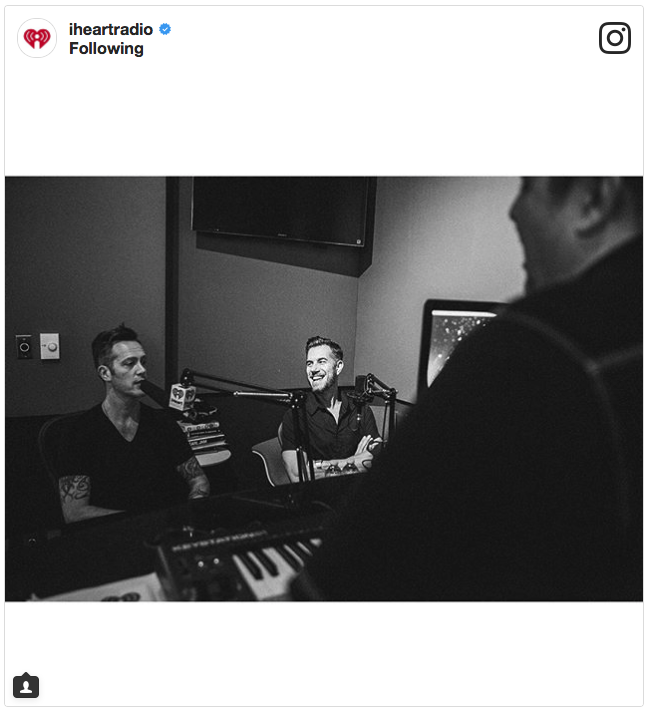 6:15 PM: Inside of Ricky's soundproof studio, the pair dives deep into the new set. "'Wildfire' was the first song written for the album," Nick explains. "I think it shows our adventurous spirit that we started the writing with a song that we would call an epic because it goes through so many different changes. It takes you on a journey. It's not for short attention spans. It's for listeners that are ready to be challenged and are ready to be taken on a trip."
6:40 PM: After breaking down other cuts on their LP, the band gushes about some of their all-time favorite songs during the latest installment of iHeartRadio Guest DJ. "The first band we ever played with, Fugazi, this is the song, 'Waiting Room,'" P-Nut says. "It was 1990 in Omaha, Nebraska [on] June 10 and a girlfriend helped us get on the bill. It was the luckiest coming together. . . .They're a great band to look up to as far as do it your own way."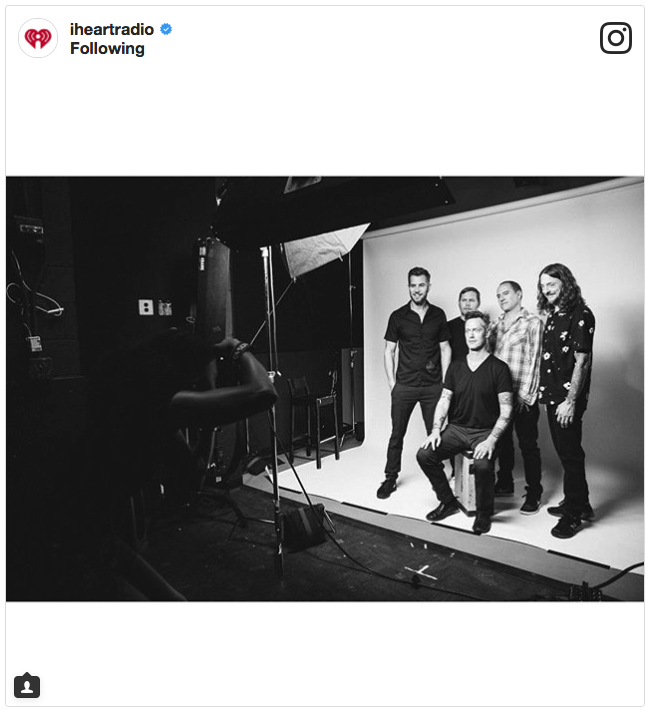 6:57 PM: After breaking down their all-time favorites, 311 is off to our green screen room for a little photo session alongside National Photo Director Katherine Tyler. Standing in front of a white backdrop, the fivesome poses for some shots, but P-Nut can't help but share funny faces for the lens.
7:04 PM: 311 continues their photoshoot at iHeartRadio's back door, before their meet-up with host Ellie Lee. It's all smiles with a host like Ellie, who remains friendly, perky and passionate during their conversation. They hit on the group's beginnings, legacy and, of course, new album. "It was the whole thing in making the album cover," P-Nut says about putting photos of their fans on their new LP artwork during a Facebook Live. "It was 'Let's take this concept and fill it in with pictures of the people who love us the most and supported us the longest' and now it's our twelfth album. We couldn't be anywhere without them. So, to be going this long is actually thanks to all them. So, thank you very much."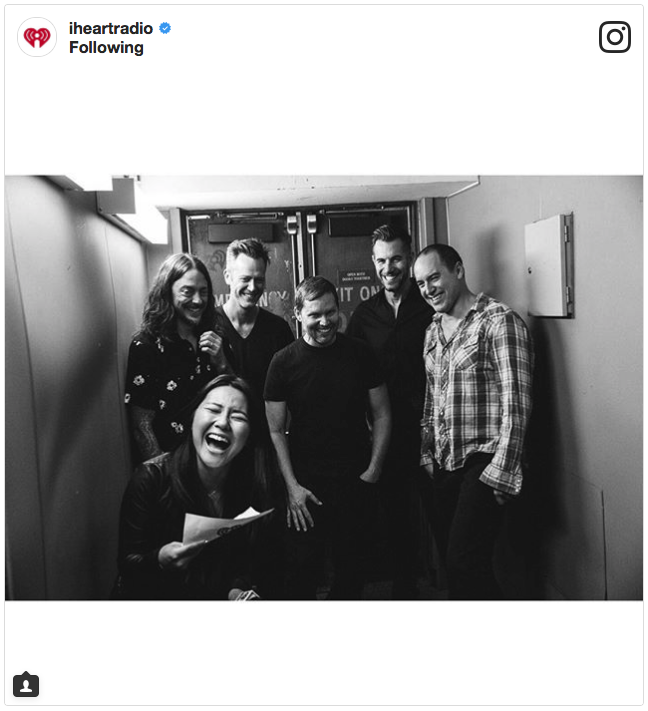 7:52 PM: After so many years in the game, 311 knows what to do to make soundcheck an easy and simple process. With a number of blue lights exploding from the ceiling, Nick takes charge by abbreviating certain cuts on the set list during rehearsals. We have two words for you: quick and painless.
8:51 PM: What's great about the relationship between 311 and their fans is that the bond really does feel something like a family. More personal than professional. More intimate than polite. It's all showcased before our eyes as Nick, SA, P-Nut, Tim and Chad greet their fans with handshakes, high fives, big hugs and even bigger smiles.
9:35 PM: Back in their dressing room, 311 sits down with us for some final thoughts before the show. As an act that's been together for 27 years, I ask for telling advice that might be useful for new bands on the scene. "We always say to young bands, you really have to focus on your live show. Put in your 10,000 hours. You can't only be good on record," Nick admits. "You have to be able to bring it, so play out a lot. We stumbled on a great chemistry. We're better together than we would be apart and you got to take care of it. Be ready to compromise, you know, not get your way sometimes. Do what's for the good of the band and not for the individual."
9:46 PM: 14 minutes until showtime, Nick can be heard practicing with some vocal warm-ups and seen doing push-ups. Here are the ingredients necessary to 311's rock and roll lifestyle.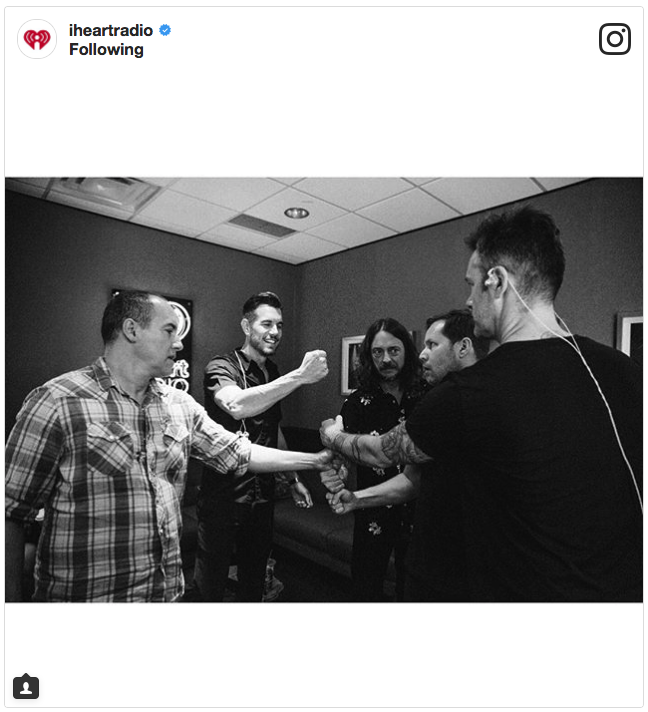 9:55 PM: Minutes before the show, the band huddles together for a brief pow wow, where they gather and show iHeartRadio some lovin' with a pre-show send off. After lining up outside of the stage entrance, the love is reciprocated as a chant for the rock band can be heard from the intimate crowd.
10:00 PM: DC101's Klinger is now on stage with the band for show introductions and their opening number, "Beautiful Disaster." From the sound of the crowd, you'd think that it was 311 Day, you know, the band's unofficial holiday, which has been celebrated ever since March 11, 2000.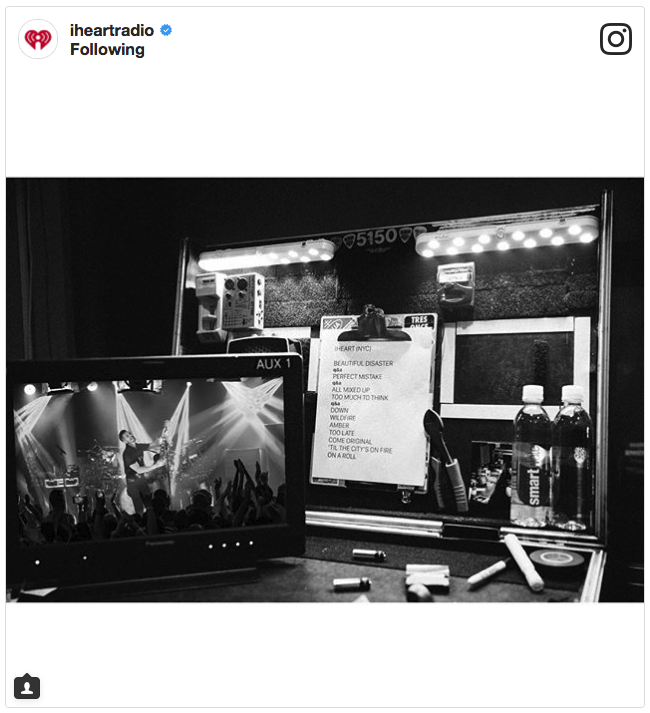 10:15 PM: After a high-energy performance of "Perfect Mistake" from their new album, SA shares some insight on how he and Nick have been able to always balance a sense of vocal responsibility throughout their catalogue. "We did come from the same town, so that might have something to do with it. [We] lived together on a bus. What else, Nick?" he says with a smile.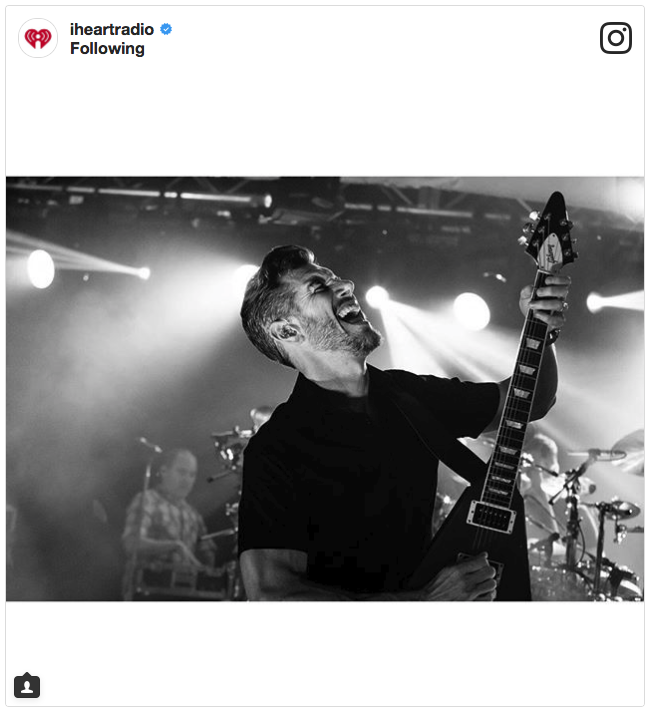 10:40 PM: 40 minutes into the show, 311 is treating us to another new cut off the LP called "Too Late." It's the eighth song into the hour-long set, which has hit on the old ("Down" and "All Mixed Up") and introduced the new ("Too Much To Think" and "Wildfire").
10:57 PM: Most bands would embrace their final applause and simply walk off the stage, but 311 isn't like "most bands." They revel in the roar. They return the love. They make the audience's time absolutely worth it. After Klinger bows out, Nick Hexum, SA, P-Nut, Tim Mahoney and Chad Sexton take the time to interact with the crowd. It only costs them a few minutes, but it proves (once again) that their loyalty to their following is the real deal.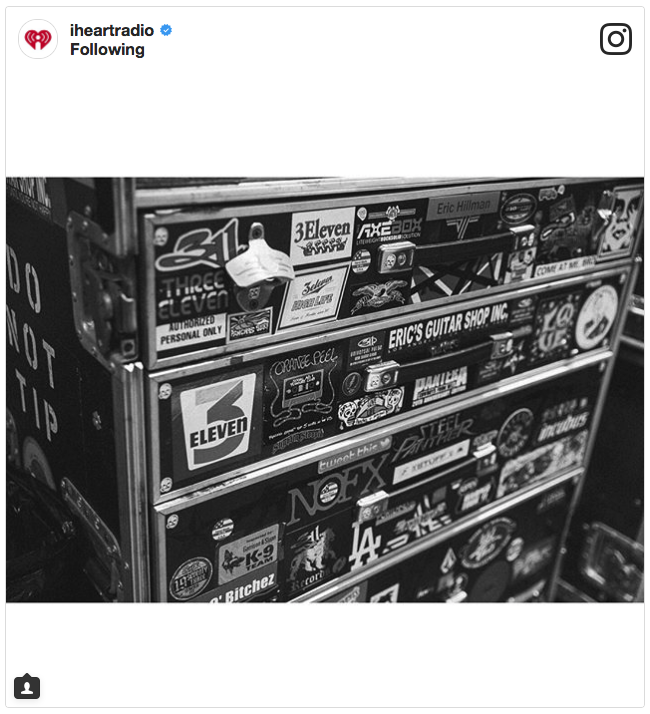 Photo: Rachel Kaplan & Katherine Tyler for iHeartRadio